Medium:
Video Games
Fandom:
Devil May Cry
Subject:
Vergil/Lady
Title:
A Study in Hate/Lust [EP]
Warnings:
Crack, this is crack, complete crack, but I can't help it.
Notes:
This mix was born after I had the image of a devil triggered Vergil hovering/pinning down Lady burn itself across my mind. It was also the birth of a rather strange scene that I have not written yet, but I'm planning on doing so in the future. But for now my fellow DMC fans just sit back and enjoy the crack in musical form.
Also I feel the need to put in here that as I was writing this note I was hit with the urge to include Nathan Fillion singing "
Everyone's A Hero
" from
Dr. Horrible's Sing-Along Blog
in the mix as an asshole-y Vergil song, but I can't see Vergil advertising his sexual exploits especially if they happen to include a mortal so I have refrained although I can link you to a download of it if you want to include it on your computer and don't already have the song.
The tracks Toxicity, Lithium, and Wait and Bleed are in .m4a format. All others are .mp3's.
Originally posted to
fanmix
on May 6, 2010.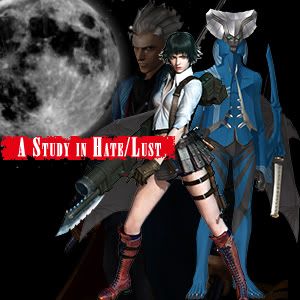 1.
System of a Down - Toxicity
2.
Nickelback – Side of a Bullet
3.
Slipknot – Wait and Bleed
4.
Avenged Sevenfold – Unholy Confessions
5.
30 Seconds to Mars – The Kill
6.
Evanescence - Lithium
7.
For My Pain – Rapture of Lust